Ask Dr. Hair – "How Thinning Hair Changed Me"
---
Sep 19, 2018 – "Terry" of Irving, TX writes:
How hair loss has changed me

Psychological impact of balding in my early 20s

I think about my hair the moment I wake up to the moment I sleep

Some days are spent thinking about my hair loss… the whole day.

Staring at the mirror and examining my hair in detail

Buying lotions, potions, popping pills, all to no avail

Spending countless hours on forums and blogs, wasting my life away

Avoiding dating; why would anyone date a balding guy in their 20s

Zero confidence; zero self-esteem; self-loathing

Random crying spells; feeling hopeless; its only getting worse

Avoiding friends, social gatherings, pools, rain, wind, life

Once the life of the party; now I just want to die

Total personality change

Avoiding sunlight, daylight, only going out when its dark

Staring at others guys hair with envy and anger

I view the world with a different lens

Feeling anger towards my parents for their shitty genes

Feeling defective, damaged, ugly, unwanted

Unable to focus on schoolwork

Unmotivated to apply for jobs

Unable to tap into my full potential

I feel like life is passing me by

I try really hard to overcome it, but I just can't

Life has become dark, gloomy and a struggle

Why me? Why this curse?
Dr. Steve J., "Hair Doctor" writes:
This was me. Maybe that's why I became a hair loss expert.
Let me share the letter I wrote to my best friend in med school when I considered quitting everything:
I've always had extreme social anxiety and it ruined my life for so long. But a few of years ago I started taking improv classes, doing psychotherapy and forcing myself to go out and socialize at least 3 times a week. It worked, and my anxiety completely went away. For once in my life I was happy and at 23 I was finally free to take on the world.

But now that's all changed. I noticed my hair was receding a couple of years ago and I my life's been over ever since. I started becoming more and more aware of how bad my hair was getting and it kept knocking down my confidence. I became a nervous wreck and I gave up having friends because I felt like shit whenever I was out thanks to how crap I looked and felt.

I don't bother socializing now unless I have to. People say, "just shave it and move on", but that's not okay with me. It might work for some people, but I don't want to. I know it's probably stupid, but my hair means so much to me. It's part of me. It's who I am. It always has been since I was a teenager. It defines me, as does my fashion sense.

I love being able to match my look exactly to my personally and now I can't. It's ruined. And it fucks me off because I'm still so young – 25. All my friends have their hair and they don't even care about it. So why the fuck is it me? I fucking fixed my problem! Now life gives me another one? Well fuck life and fuck my parents for making me an awkward balding fuck.

All my teenage years were wasted because of social anxiety – homeboi was too scared to go to a single fucking party. I just stayed at home playing computer games. Then I finally built up the strength and got myself on track. I finally found happiness and started respecting myself. Now everything is fucked again – but this time it's because of my parents shitty genes.

For me shaving my head makes me feel like I'm wearing a fucking mankini. It's not me, but yet, now it is. So I spend my life on these forums listening to a bunch of shit heads talking about how there nw1 hair looks a little thin on top and how they're scared of starting Fin because their tits might start lactating and their dick might revert back into there body.

Well hopefully one day I'll log in and find an answer here. Maybe then I'll hit the restart button on my life. But I probably won't. I'll probably just stay depressed for another decade until I become indifferent.
10 years later.. I realize how DUMB this was. Having deep dark thoughts because of thinning hair or balding?
Yea, I get it. It sucks. But guess what, you are NOT alone and most of men (AND women) will eventually bald or at least have their hair thinned out.
What can you do? SO many things.
Now I won't go into really expensive hair transplant or medically induced re-growth strategies because those are either really expensive, has long term consequences
1. Choose the right shampoo and conditioner.
Go for "volumizing" or "thickening" products.
These are made to work without weighing down your hair, so you can get a fuller look.
For added insurance against limp locks, apply conditioner mainly to the ends rather than your scalp.
2. Style smart.
Again, look for mousses and gels geared toward building volume.
To give the most oomph to thin strands, blow-dry your hair until it's only a little damp, then apply a styler at the roots.
This also keeps hair from sticking to your scalp, which makes thinness more obvious.
3. Find a great barber or stylist.
Exactly how this pro works her mane magic depends on your hair type, texture, personal preference, and pattern of hair loss.
She might blunt the ends of your hair to make them look thicker, for example, or leave your hair longer in some areas to help disguise trouble spots.
But the bottom line is that the right haircut can make a big difference for you.
4. Switch your part.
If you've always worn your hair parted on the left, try shifting it to the right or center.
After years of lying in the same direction, a switch will help lift your hair away from your scalp.
5. Fill up with fiber.
If you have mild to moderate hair loss, fiber hair cosmetics can be a quick fix for adding volume.
But don't go TOO crazy.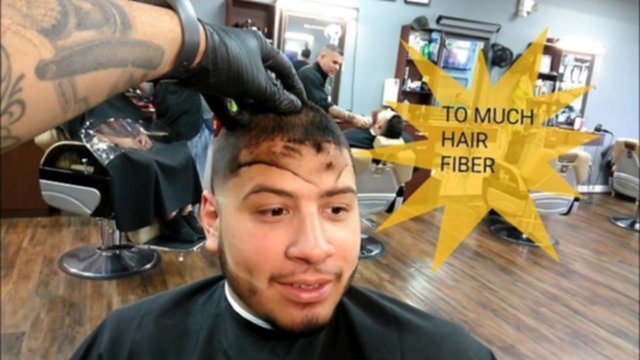 These products use statically charged fibers that you sprinkle over your hair to make it look thicker.
Most of them come in a few different shades to match your color and will stay on until you shampoo them out.
If you are not completely bald and have some hair, hair fiber can work magic
(Just a warning though…. this won't work in FRONT of the hair, and is designed primarily for the top / crown of the head)
Dr Hair to the Rescue
There are many hair fibers (i.e. hair keratin, hair building fibers) on the market, but Dr. Hair USA has one of the best electrostatisticty which makes the fibers cling better to the hair.
Plus we've tested other cheaper ones, but they seem to itch and can't quite make out what the ingredients are. Dr Hair USA uses cotton fibers.. so much more safe and hypoallergenic.
Dr Hair USA has a growing raving fan base on their Facebook page as well, and their international customer base seems to be growing, and not just in US.
Not confident about your thinning hair?
Feeling much older because your hair isn't quite as it used to be ?
Get a bottle of Dr. Hair USA hair fiber, and get FREE shipping this week.