The Search For Aaron Rodgers – ESPN
Before Rodgers comes to my house, he stops in a hipster café in my neighborhood (think: exposed brick, single-origin list, baristas with deliberately misshapen haircuts) and texts to ask whether I want a cup of coffee. I tell him I'll just meet him there. When I open the door, I see him sitting in the middle of the store, surrounded by aspiring screenwriters glued to their laptops. All appear to be unaware — or uninterested — that a future Hall of Famer is in their midst.
Rodgers stands, and no one looks up. He smiles.
He's lived in Los Angeles for about three years. While he owns a house in San Diego, he spends pretty much all of his non-helmet-wearing time here. Rodgers likes LA for the same reasons most transplants do: He grew up in a small town and was drafted by a football team in a small town, and aside from the one and a half years he spent at Cal, he'd never experienced life in a city before. He likes it all: the live music, the organic grocery stores, the expectation that he can walk around without being stalked by middle-aged men with Sharpies asking him to sign memorabilia they'll later sell on eBay. Angelenos are, for the most part, pretty chill, he says: "They see a lot more famous and recognizable people than me every day."
When I ask Rodgers whether he dislikes fame, he pauses for a second. He's wary of complaining about his own celebrity, given the attendant benefits. But he admits there are "some things" that cause him discomfort. "Decreased privacy," he says. "And increased strain or pressure or stress associated with relationships. Friendships and dating relationships."
In 2014, Rodgers started dating Munn. (He previously was engaged to a woman he knew from high school, which he's never publicly discussed.) In April, it was reported that the couple had broken up. I ask him what he learned from the experience. "When you are living out a relationship in the public eye, it's definitely … it's difficult," he says, jostling on the sofa and blinking a little, as though I've just pointed a flashlight at his face. "It has some extra constraints, because you have other opinions about your relationship, how it affects your work and, you know, just some inappropriate connections." It seems clear that he's referring to the fans and pundits who asked whether his famous girlfriend might be hurting his performance, so I say as much. He nods, adding, "They're such misogynists, right?"
Rodgers sees the media the way a person strapped to a spinning wheel might regard an amateur knife thrower; he's deeply concerned about his words being carved into fodder for the aforementioned pundits, used to drive news cycles beyond his control. "There's some horrible media outlets that … you say something or do something, where there's a story, and they just go with it and run with it," he says. Rodgers tells me he's gotten better at ignoring his critics, but he admits it's still a struggle. Throughout our conversation, he repeatedly criticizes the media for overblowing storylines, including ESPN (which he refers to several times as "your network").
"When somebody thinks of you a certain way that's not real, or says something about you that's not true, I … you know, that's not me," he says. "You're not seeing me the right way."
Last summer Rodgers found himself in the center of a minor maelstrom when his brother Jordan, who's now a commentator on ESPN's SEC Network, discussed their fractured relationship on TV. For fans who had followed the quarterback's career, the revelation came as a bit of a shock. In years past, his parents had featured prominently in stories about his wholesome upbringing, flanking their son in Arlington. But in January, The New York Times published an interview with his father, Ed, reiterating what Jordan had said. (Jordan and Ed did not respond to requests for interviews.) Afterward, Rodgers told The Times he didn't think it was appropriate to comment on the story. I ask him whether he still feels that way.
"Yeah, I do."
Why?
"Because a lot of people have family issues," he says. "I'm not the only one that does." He tells me he doesn't see any upside in discussing those issues in public. "It needs to be handled the right way."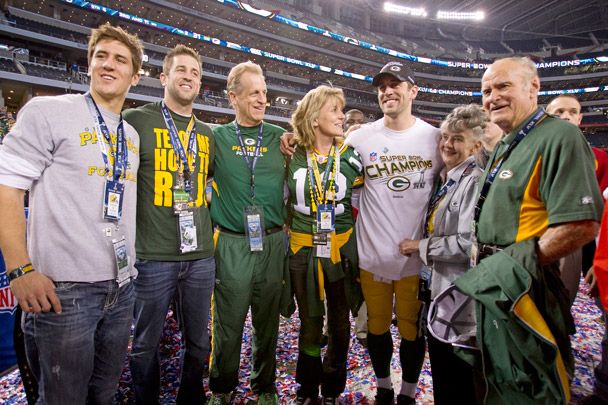 It bears mentioning that Rodgers never pulled me aside to tell me off the record his side of the story (about this or any critique). His belief in the value of privacy is abiding. "I think there should be a separation between your public life and your personal life," he says. "I've just always felt like there should be a time when you don't have to be on."
And yet, in recent months, he's tried to open up a bit more. "I do have a desire to be myself and not have to feel like I've got to be so private," he says. "I think, because I live in a fishbowl, you either kind of internalize everything or you just relax and let life be." He mentions a couple of times that he recently joined Instagram. (Imagine: a famous person who was not on Instagram in 2017.) He's uncomfortable with all of it- — the selfies, the location tagging, the performance of being Aaron Rodgers — but he's doing it anyway because he's found that silence can be suffocating in its own way.
---
Rodgers moved to
Green Bay when he was 21. Since then, he has voted in every major election: presidential, local, even the 2012 failed vote to recall Wisconsin Gov. Scott Walker. When I tell him I was surprised by his level of civic participation, he shrugs it off. "I'm a proud Wisconsin resident, so I feel like it's a duty of mine to vote in the Wisconsin elections," he says.